Bruce Pierce Introduction.
My name is Bruce Carroll Pierce. I was born in the early 1950s and raised in central Kentucky.

During the early 1980s, I took an unpopular stand for God and Race with the other good men listed on this website and though we were worsted in the end, our Cause did not suffer with our losses, and it is no less just.

I am a disciple of the Anointed Jesus and I stand by and strive to live uncompromisingly in accordance with the principles of God as found and demonstrated in His original autographs. This includes, but is not limited to, the preservation of my Race and all that God created and called good, and the establishment of God's government in the hearts and minds of my Adamic Israelite kinsmen.

To those ends I have devoted my life.
Bruce Pierce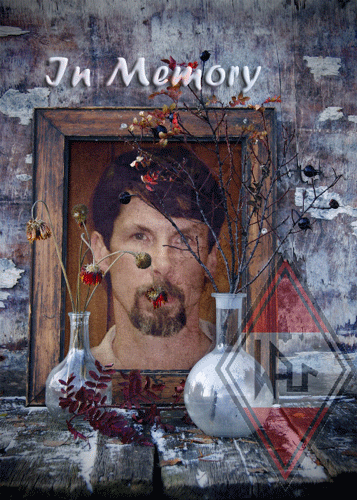 ---
Remembering Bruce Carroll Pierce who was Martyred On August 16th 2010 - You were a staunch racialist until the end, RIP Bruder!


---
Hello Vicky and others at F.T.O.!



I wanted to let you know I will be leaving North Carolina tomorrow, Tuesday 9-14 to go to Missoula Mt. so the family can spread dad's ashes in Plains Mt. probably next Monday. I hope RE will be there as well, for that is the plan.

I will send the exact correct date once we have figured that out when I get there so other's may know. I have got a suggestion from someone else about maybe sending some of his ashes to Debbie Mathews as well so that they may be spread there with some of Bob's and David's. I thought that would be something special.

Thank you again for all your concerns and prayers to EVERYONE around the world who cared for and admired Dad. God Bless! God, Race, Truth! as dad always ended,

Jeremy Carroll Pierce


---
Hello Vicky and others at FTO! After arriving here in Montana and having a chance to make plans with the rest of the family we are going to Plains Mt. this coming Monday 9-20-10 to spread dad's ashes on the land where he built the cabin and where we called home when we were all still together. We are planning on leaving around 9am to arrive there and have a small family ceremony around 11am.

My family and I are so very grateful for all the support and wonderful comments that have been made on dad's behalf posted on Free the Order from so many people around the world. It has helped so much with our grieving knowing he had touched and had influence on so many of our people.

Thank you Vicky again for everything you had done and the other's with FTO for dad, I know how proud the site made him knowing it helped with himself and fellow members.

God Bless everyone and thank you again!
Jeremy C. Pierce


---
A word from Free The Order Sweden.....

Bruce Pierce is the third of the Bruders who have left this life, first was Robert Mathews, who was followed by David Lane a couple of years ago, and now also Bruce. It is on occasions as this that you really think about their actions, of their bravery and courage. Something that always crosses my mind when I think about Bruce is a sequence from a documentary where he was interviewed. The journalist asks Bruce about the declaration of war that the Order sent to the American government, and Bruce answers; "it was the proudest moment in my life... to wage a war against the United States' government, but nothing has changed, I still feel the same way".

This comes from a man who was convicted to 252 years of prison, without any regrets, with pride in his voice. This is what I call bravery and determination. Bruce Pierce stood faithfully by his oath, that he swore with his Bruders 1984, through his whole life, a warrior in action as well as in heart.

I did notice that sometimes Bruce could be low. He once wrote me. The financial support reduces all the time, and he has gone weeks without any letters. Soon we will be forgotten and will day be alone in prison.

This was one of the main reasons that we started Free The Order Sweden, because those men should not be forgotten, instead they shall be remembered, and Swedish racialists should learn more about them, and also be inspired with the same passion, fire and determination fight for our survival. But also to help with money. Several times Bruce wrote me and thanked for the donations, and also let me know that without them he would have been all out of money.

Now there is only four people left from Der Bruder Schweigen in prison, let us not forget them, help us help them. Insert a donation to the Free The Order account, or send them a letter or a postcard. Don´t let these men be forgotten. They have given their life to our common Cause, and the least we could do is to support them in their daily life.

In a article that Bruce wrote after David Lane had died, he said something like this: The "line" between the two dates on David's gravestone represents a man's life, a man who sacrificed him for his race', sisters and brothers, should we do any less? What should the "line" on our gravestone tell about each and one of us?"

This is also true for Bruce as well as David. I'm sure that the "line" on Bruce gravestone will say the same thing about him, a man that sacrificed himself for his race.

My thoughts goes to Bruce's children and family.

Rest in Peace!
Stefan Jacobsson
Free The Order Sweden


---
Rest In Peace, Hail the Order. They will not be forgotten. 14/88 - NHS Will USA


---
Hail the Bruders Schweigen. Rest in peace, brother Pierce. You will not be forgotten. - Supporter Texas


---
RIP Brother! Never forgotten, forever in our hearts. - Fortress14 USA


---
Rest in Peace, Bruce. We didn't agree on everything, but my you have my eternal respect and gratitude. Hail Bruce Pierce, and Hail The Order. - Misty USA


---
RIP - The sky is crying...and so am I. - SwiftSword USA


---
You will not be forgotten. - Brutal Defiance USA


---
Very very sad news, my thoughts are with his friends & family - Mavis UK


---
My condolences, I am sorry to hear that. - Maria USA


---
R.I.P Bruce.. I'm so sorry to hear this sad news. - Talena Australia


---
Well, Brother, you managed to cheat them out of 227 of the years you were sentenced to. Defiance until death. Hail the Order. - CHS Pete


---
RIP Brother,you will not be forgotten. - AmericanFront.


---
Rest in peace. I am at a loss for words. - WhiteRider USA


---
Rest in piece Mr. Pierce. - Spring USA


---
Bruce , my brother ; it is your time to proudly enter Valhalla with your dogs at your feet . The Bruder Schweigen showed us all the direction that we know we need to aim . You nor your brothers in arms will soon be forgotten. - Friend From Texas


---
Another Titan fades away, yet is not lost in our hearts and minds. - Scott USA


---
RIP Hail the Order! - Sara WAU
Rip brother, we will continue this fight, from all Scottish White Folk - Steph828


---
Rest Well Bruce - Your name is now etched alongside the other warriors and heroes of our movement forever. - Hawthorne USA


---
Bruce Pierce you will live on and be among your kith and kin when we fight against our racial enemy and you will live on when and if we succeed, because Heroes Never Die! R.I.P Bruce Pierce - Friend from the UK


---
Sad news. My sincerest condolences to his loving family and friends. Though we truly have all lost, as a race, a brother. - Jenn USA


---
Requiem in Pace, Bruce Pierce. Ad vitam aeternam. You will not be forgotten. - M, Canada


---
Hail Bruce Pierce! He resides with the Gods, and other heroes who have gone before him. Today is the day that Rudolph Hess was also rescued from ZOGS dungeon by the Valkyries. - Chris Noble USA


---
Rest in peace Bruder. Your sacrifice was not in vain,I swear to you. We will meet again in Valhalla.


---
May Providence bless Bruce Pierce and may he ever be Remembered by those that matter. John Michael GA


---
Rest in peace brother. The gods have made an honorable choice. - Flame of Udin, Florida


---
He will be greatly missed. We've lost so many great men these past several years. David, Eugene and now Bruce. I'm so sad.I will always cherish the times that I had the privilege of getting to know Bruce and my heart goes out to his family. As these heroes pass on perhaps it means others will rise up in their place. Either way I plan to have a private memorial event held for him tomorrow night at my place to celebrate his memory.RIP Bruce. You were a kind, loving, and sincere kinsman, who without a doubt loved his people and cared about a future for our children and gave your life for that cause. His memory will live on in my heart. - Kinsman in Florida


---
You and the other members of "The Order of The Bruder Schweigen" will never be forgotten and the sacrifices you Brothers made for our folk. It was nice communicating with you Comrade through mail and getting to know a little more about you over the years. You will be deeply missed and never forgotten. Your legacy will live on forever! We will be seeing you soon enough my Brother, until then our fight must continue on. - Your Brother In Christ,Jeremy Parker


---
RIP, brother. My sons will know your name and all you did. Your chains are broken now. LEST WE FORGET! HAIL THE ORDER! - Haus Drachen


---
Bruce was a year younger than I am. Hate it when old fighters die younger than me. RIP. - Don Black


---
Rest well Bruce Pierce. I offer my condolences to his family. I will always remember the sacrifices that this man and the entire Order made for our folk. - Friend on SF


---
We usually remember our heroes after when they are gone. The remaining Order members, I urge those who feel their sacrifice wasn't in vain, to write to them. They still can give us so much; advices, courage and faith. Over the years that I wrote with Bruce Pierce, his letters were always written in a good spirit and even though he was in prison, he had faith and trust that the younger generation will follow the path of white survival. Most of the Order members are incarcerated in the hole, and therefore they would appreciate to have letters and someone to write with. I do need to say that Pierce told that not too many people were writing to him, and it made him a bit disappointed. When I was in the SHU myself, a letter did boost my spirit, and I answered each and every letter I did get. So, I advice; write to those POWs, if you can and are willing to, help them by sending donations for post stamps and for phone. Do not think that someone else is already writing to them, because no one might be writing. I salute Bruce Carroll Pierce and his spirit. He may be gone from this world, but the actions of great men never die. - Henrik Holappa / Europe


---
I was in Leavenworth with Bruce for several years, we were in the same cell block and we spoke every day. He was a warm and caring person who stood for what was right. I am saddened at the news of his passing, the world has lost a good man who truly cared about his race and was willing to give everything for it. - MNRick


---
Rest well Bruce, they could not break your spirit, it lives on with us. You will not be forgotten. 14 Words - Wodensworn


---
Ruhe in Frieden Bruce Pierce! Anderen werden in Deinen Fußtapfen folgen! - JohninBasel


---
Another great and proud white warrior lost. I lift up my cup to the Bruder Schweigen with a hearty RaHoWa to all those who literally gave their lives for the cause, be they still here or gone. RIP Bruce Pierce, David Lane and Robert Matthews. RaHoWa - CelticBiker97


---
R.I.P Bruce C.Pierce! Hail from Norway


---
Rest in peace...I read your letters and cant believe it!!!!!I will spread your ideas to all white man,fallen white hero 1488 - Komotau14


---
He fought the good fight, We need more brothers like Bruce Carroll 88 - Tiffany88


---
RIP Bruce Pierce. You've done more then your fair share in this life for your race, and now your in heaven. LastWhiteMan


---
Hail the Bruders Schweigen. Rest in peace, brother Pierce. You will not be forgotten. Texas


---
Once you know the truth, its hard to deny it. RIP brother. Palm Beach


---
RIP Brother! Never forgotten, forever in our hearts. - Northwest USA


---
This is the first I've heard of it. Rest in Peace, Bruce. We didn't agree on everything, but my you have my eternal respect and gratitude. Hail Bruce Pierce, and Hail The Order. - Misty


---
Rest in peace Bruce Pierce & Hail the Order. - Australia


---
RIP, Bruce Pierce, you won't be forgotten. Hail The Order! - Justin Australia


---
R.I.P Bruder, you'll never be forgotten.. - Talena WAU Australia


---
See you in Valhalla great warrior where the true heroes never dies. Hail the order. - Barcelona Spain


---
Truly , thank you for the direction you and your brothers gave us . We all know what needs to be done . We just need to grow a pair and step up . Peace be to your family , My Brother. - Plano Texas


---
RIP Brother !! now run free , and forever in the FIGHT , 88. - Iberia


---
Now you are free! Rest in peace, brother! - Northwest Hammerskin


---
A warrior to the end, HAIL THE ORDER! RIP - MHSPitbull


---
A brave warrior died. Heil Bruce Pierce, Heil The Order RAHOWA - Portugal


---
R.I.P. Brother you have well earned your spot in Vahalla - North Florida


---
R.I.P brother you're sacrifice will never be forgotten. HAIL THE ORDER! - Brisbane Australia


---
We have lost a Hero.... R.I.P. Bruce. - Alabama -


---