July 20th 2017 - Click on the below link to go a truly great old interview with the man who helped us build Davids Site before we merged both Free The Order & David Eden Lanes sites together, he literally typed up 90% of Davids written works for them to be available online! The best of our Folk are usually working diligently in the background! #HailOurFolk


Mourning the Ancient Interview Georg Baldursson
Best Regards from our Sisterhood and happy reading and learning!
"Because the beauty of the White Aryan woman must not perish from the earth."
---
May 28th 2017 - We cannot believe it has been 10 years since you left us, i remember the day like it happened yesterday, i am proud to have been able to send you on your journey home, hold your hand and kiss you goodbye. We love and adore you as much as we did when we had the joy of listening to you, no matter what you were always positive and ready for the next written project. I hope you are feasting well with your family and folk!

WAU Sisterhood


---
May 1st 2017 As we are in May & this month marks 10 years since the passing of David Eden Lane, each day I will share one of his quotes in honour of him. And where better to start than the 14 words.

"We must secure the existence of our people and a future for white children." "Because the beauty of the White Aryan woman must not perish from the earth." WAU Sisterhood


---
---
---
April 30th 2017 Happiest of birthdays Richard, our love for you is eternal! May the gods comfort you!


---
April 2017 Equinox Raffle aftermath & thank yous - Firstly a big thank you to all who bought tickets in our Equinox raffle for our imprisoned Folk. We raised a total of $389USD which was sent to one of our sisters in America to send on to the Bruders. After the outrageous cost of postage on prizes which was a staggering $82.90USD with insurance, we were still able to send each of the 4 Bruders $80USD. Thank you for your support!


---
---
January 16th 2017 Happiest of birthdays to our fallen friend and hero Robert Jay Mathews, we are thankful for everything you have done for our folk, and eternally grateful for your heroic and selfless sacrifices! We will always act with honour and dignity in your name. Feast Well bruder - WAU Sisterhood


An exciting new project from WAU/USA. This will eventually be made into a book compiled from our brothers and sisters that are currently incarcerated. The subject matter is David Lane's 88 Precepts. Each person chooses a precept to write about. The precept essay is their interpretation and how it applies to our movement during these modern times.

We rarely get to showcase our people that are imprisoned and their voice often falls upon deaf ears mainly because they do not have a platform to express themselves. That is the main goal of this project. To give them that platform and remind them that we do care about their opinion on important matters that involve our movement. And most importantly that they are not forgotten. If you know someone who would be interested in this project please email vexsteele@gmail.com for details on available precepts and mailing address.

Read 88 Precepts From Behind Glass HERE

---
December 31st 2016 - Thank you for your continued support over the past 12 months, we look forward to continued support and more sponsors for Adopt A Bruder in #2017 Thank You - WAU Sisterhood
---
Robert Jay Mathews' Last Letter 1984 - I see three FBI agents hiding behind some trees to the north of the house. I could have easily killed them, I had their faces in my sights. They look like good racial stock yet all their talents are given to a government which is openly trying to mongrelize the very race these agents are a part of. Why can't they see? #HailRJM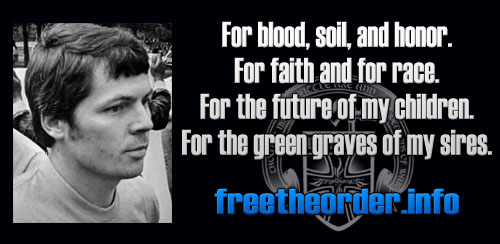 ---
December 19th 2016 - After owning FreeTheOrder.org for over a decade we lost the domain, a valid credit card was attached to the domain but for some reason it didn't automatically renew like it had previously done, so please update your domain url for The Order to the below address, DavidLane1488.com is still active - WAU
---
December 9th 2016 - Happy Birthday Kemp And Duey who both celebrate their birthdays today!
---
December 8th 2016 - On the 8th December 2016, will see 32 years since Bob Mathews ascended into the halls of Valhalla. Bob exhibited both qualities of the lightening & the sun; his was a power harnessed for a life-affirming purpose and he sought to fight the decay of this world using whatever methods necessary to achieve a Golden Age state of existence. He truly was "A Man Against Time".
Where we never had the honour of knowing Bob personally, we have the honour of knowing his Bruders; men so genuine, sincere and honourable, men who give us the courage and inspiration to continue to fight for a future for our Folk; men who to this day, after serving 32 years in ZOGs Gulags still speak about Bob with the upmost admiration, love and pride in having stood by his side.
"Bob was a charming and sincere man. To know Robert Mathews was to know a man who was genuine, without deceit, whose personal sense of honesty was unfeigned and uncontrived…..Robert Mathews was a natural leader, and no one else could have ever taken his place….Robert Mathews had an absolute dedication to The Cause and creating a future for White children, and he put his life into it." David Tate WAU Australia #RobertJayMathews


---
November 2nd 2016 - Happy Birthday David Lane, a true man of honour who never faltered in his path,for the 14 Words Always - WAU - #DavidEdenLane


---
October 19th 2016 - Happy Birthday Gary Lee Yarbrough, a good friend and cherished comrade! #GaryLeeYarbrough


---
October 14th 2016 Hail The Order! If You Quote the 14 Words then consider sending the remaining four imprisoned members money for their canteen! They fought for us, so let us remember them by making life inside as comfortable as possible! Do you know that when Order members have had extra money they donated it back to those outside the wire? Skip that meal out, don't buy that beer, ask us how you can support them! #AdoptABruder


---
October 1st 2016 The new email address for Adopt a Bruder is adoptabruder@outlook.com - Please update in your email address book and paypal!
---
August 16th 2016 We remember our Friend and Bruder Bruce Carroll Pierce who joined his Bruders and Friends Robert Jay Mathews and David Eden Lane in their Martyrdom on August 16th 2010, we will never forget your sacrifice for Our Folk! Hail BCP!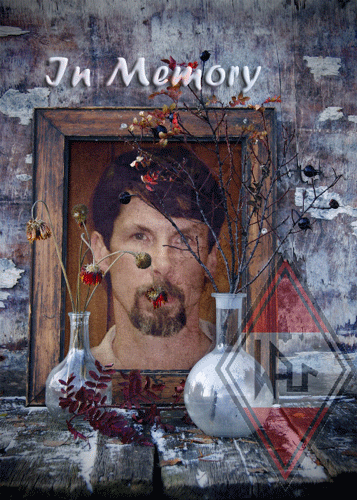 ---
May 28th 2016 - WAU would like to send our love and remembrance to David Eden Lane, our friend and mentor as we remember you today! 9 years ago you were taken from us and everyday since we have worked hard in your honour, we hope you feast well in the great halls.
Read More Here
---
May 14th 2016 - WAU would like to remember a man who only wanted to bring honour to himself, glory to his kinsmen and glory to his God. Bruce you achieved this and so much more, you will always be remembered for your sacrifice. Happy Birthday Bruce Carroll Pierce!
---
April 30th 2016 Happy Birthday to a man who encompasses all that is wonderful in our folk, Trust - Loyalty - Honour and Bravery, we love you with a million hearts.


---
April 18th 2016 Remembering Jean Margaret Craig who passed away on April 18th 2001, we will raise a drink in your honour sister.


---
December 21st 2015 - Winter Solstice Blessings to all of you supporting our Bruders. A huge thank you to the SCHS QLD, Scott and everyone who bought the endless goods i sell and gave donations. All up we were able to send all The Bruders an extra $800USD for the Yule period on top of the usual monthly sponsorship, which is an accomplishment as it works out to around $1200AUD. You guys and gals are awesome and i love you all and i know the Bruders are very thankful and appreciative for all your support. Plus a big thanks to our adopt a bruder sponsors for your continuous contributions each month. We would also like to thank NWHS who raised $400 at their Martyrs day for the guys. Thanks to everyone who has helped us with this fundraising over the last decade or so!


---
December 9th 2015 - Happy birthday to our dearest friend and Bruder - Randy - In your honour always!


---
December 9th 2015 - Happy birthday Richard Kemp - Love and Friendship always dearest one - WAU


---
December 8th 2015 - Remembering You Always Robert Jay Mathews - Feast well in the great halls.


---
I remember the day David left us like it was yesterday, I was sitting in our office on the computer and the phone rang and it was my roommate telling me that David was dead, I couldn't believe it, how could this be, we had so many plans, so many projects, who was now going to call me about his site querying the number of visits each day? Who was going to phone just because they heard a joke and they wanted to share it?

Continue reading here.....
---
WAU Australia Presents- A conversation with David Tate - a 15 page booklet in PDF format! This one of a kind interview is an honest hard hitting read, please absorb it, live it, act it and be part of a CAUSE that is unconquerable!


---
October 19th 2015 - The Women of WAU would like to wish Gary Lee Yarbrough a Happy 60th Birthday.


---
On this Day August 16th 2015 we remember our Friend and Bruder Bruce Carroll Pierce who joined his Bruders and Friends Robert Jay Mathews and David Eden Lane in their Martyrdom, we will never forget your sacrifice for Our Folk! Hail BCP!


---
June 1st 2015 you can find more of these images under the Quotes link to the left!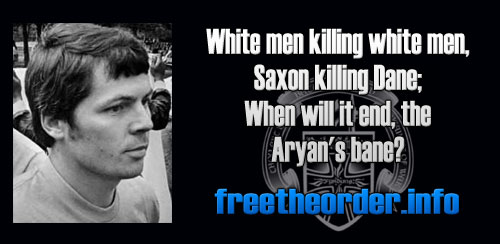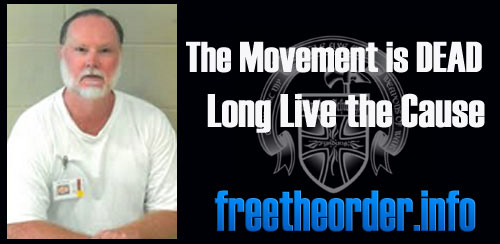 ---
May 28th 2015 - The world is a sadder place without you and the great halls are a more wise and humourous place because of your presence...14 Words!
---
May 28th 2015 - It is now 8 years since David Lane was taken from us. David was not only a friend and teacher but also an inspiration to the entire Aryan race, with his 14 words & 88 Precepts, David made an impact on every one of us. He answered Bob Mathews Call to Arms and even after his capture & imprisonment, David never faltered on his path, he remained always Defiant unto Death. I would like to raise this horn in honour and in gratitude to all David has given us, an immortal spirit who gave freely of his life so that darkness and oppression may vanish from our race and from our lands. We hail you, David Lane you truly were a giant among men – Hail David Lane, Hail the Order! WAU Australia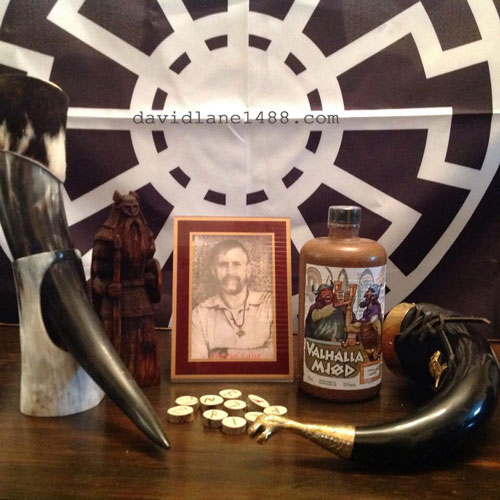 ---
May 14th 2015 Happy 61st Birthday Bruce Carroll Pierce We have never forgotten you or the vigor and loyalty that entwined every fabric of who you where, rest in peace Bruder.
---
April 30th 2015 Happy Birthday Richard Scutari, a more wonderful human does not exist. Love from WAU -
---
April 18th 2015 Remembering Jean Margaret Craig who died on April 18th 2001 - Rest Well Sister
---
April 25th 2015 - We would like to thank everyone who has supported our Adopt a Bruder campaign over the last 11 years, we look forward to your support until every member is no longer in ZOG's Gulags!
---
While I'm at it, let me also thank the dedicated Women of W.A.U. for their help too. You have restored my faith in the White Aryan Woman as the Goddesses of our Ancestors beliefs. David Eden Lane March 2006..


---
December 8th 2014 - NWHS and friends at Whidbey Island for Martyrs Day! Robert Jay Mathews!

---
December 8th 2014 - 30 Years in the Halls of Valhalla, always remembering you Robert Jay Mathews, a beautiful Scottish flag across the skies of Europe today December 8th - WAU Sisters

---
November 25th 2014 - 30 Years gone this coming December 8th 2014 - Never Forgotten RJM - WAU

---
May 28th 2014 - 7 Years Gone Dear Friend - Loved beyond words. WAU

---
---
---
January 16th 2014- Happy Birthday Robert Jay Mathews, from the women of WAU.

---
December 8th 2013 - We will never forget you! Your Bruders have shared many wonderful stories with us over the last 25 years and we wish that we to could have shared them with you too. Always Loved, Always Remembered....

---
November 2nd 2013 - Happy 75th Birthday Dear Friend, Still Loved, Still Missed - Fighting Your Fight Always...

The WAU Girls

---
---
---
I'm pretty sure that most people are not aware that WAU's Adopt a Bruder program is the only source of financial support that most of the imprisoned men of The Order are getting on a regular basis. You may not have thought to sponsor before thinking that these men were being well taken care of by the Movement, but I can personally tell you that this is not the case. At the moment we are desperately in need of some sponsors. Presently we only have 1, yes only 1 American sponsor and this is very disappointing. These men are Americans and they have fought, were imprisoned and some have died/ been murdered for us, for America, for our Folk

It is extremely hard to get funds to these men if you live outside of America and unfortunately we have been denied many sponsors because of this. But if you live in America sending money is as easy as a trip to the post office. I know America is financially in dire straits with a lot of people out of work, but really we are not even asking for a lousy $1 a day, just $25 a month will help these men who have given so much, with the simple necessities to make their stay in ZOGs' Gulags that little bit more comfortable.

When WAU first approached these men, they had nothing, they were walking around with holes in their shoes had no financial support at all and had basically been left to rot by our so called Movement. Is this how we treat our heroes? Please do not allow this to happen again. I must give a huge shout out to the Australians as this is where the majority of our sponsors come from.

WAU Australia
---